Roscoe Tyres & Autos – About Us
Established for over 10 years, Roscoe Tyres and Autos are happy to help you with all your motoring needs.
Roscoe Tyres and Autos St Helens can repair any potential issue with your vehicle and size doesn't matter, so if you are having trouble fitting a light bulb, Need an MOT, buying & fitting tyres, replacing an exhaust or Require a Service please feel free to nip round to us and ask us for a hand, please call Roscoe Tyres and Autos on 01744 611 133 / 01744 812 992 or simply click here to view our contact us page.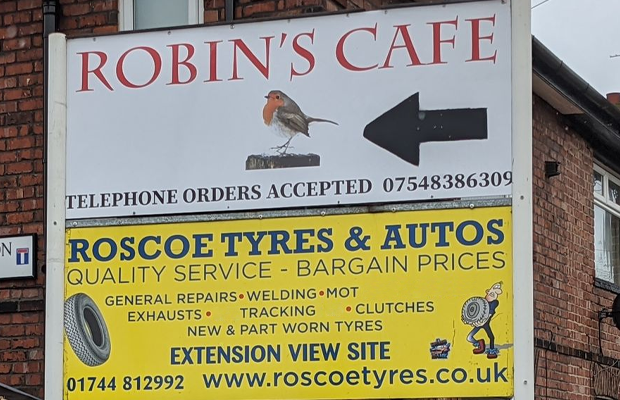 Robins Cafe
For any of our customers who drop off their vehicles for an MOT, Service, Maintenance or Repair, Roscoe Tyres & MOTs have a café on site, allowing our customers a comfortable place to wait for their vehicle. Our Café provides a wide range of hot and cold drinks as well as a full menu of food to choose from!
Fill out the form below, which asks for your contact details, preferred time and date of booking and which service you require, we will contact you to confirm your booking, we will do our utmost to honour your preferred time and date; however, this may not always be possible. Please remember that your vehicle will not be booked in until it is confirmed by a member of staff.